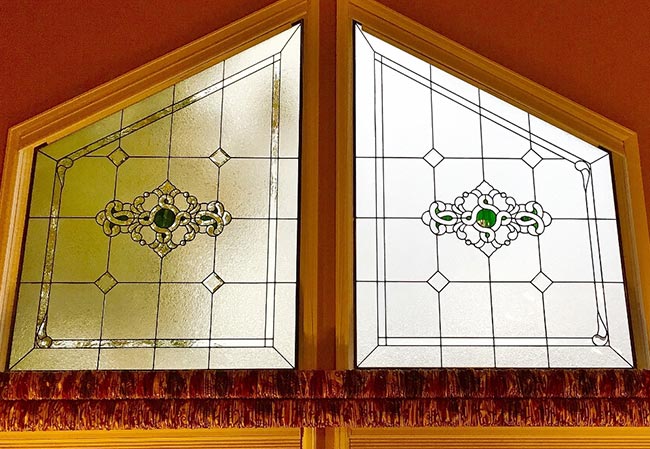 Colorado Springs Stained Glass In Grand Junction
At Colorado Springs Stained Glass we have been serving all of the Front Range and some of the Western Slope, including Grand Junction for 3 decades. For this reason, we have a deep understanding of what a wonderful addition to homes in our lovely state. We also see what a huge part of historical church preservation and restoration stained glass plays and are happy to be a part of this in Colorado. After so many years of experience, we have become Colorado's premier stained glass contractor you can trust with everything from creating a lovely masterpiece for your home to restoring the stained glass on your Grand Junction church, mosque or synagogue.
Stained Glass In Grand Junction, Colorado
Stained glass goes well in most buildings religious, residential and commercial. Whether because of its entrancing beauty or critical functionality, it is an improvement to all facets of indoor life. Additionally, stained glass notably stands the test of time and will last for generations if properly maintained.
Stained Glass for Grand Junction Homes
Stained glass is a great choice for Grand Junction homes of almost any architectural style or size. Adding stained glass to windows in entryways, kitchens, or bathrooms you will enhance the appearance of your Grand Junction home and has a dramatic effect on home value too. Additionally, stained glass is a point of attraction anywhere it is installed, so when it comes time to sell a house with stained glass will sell faster than a comparable property without stained glass.
Grand Junction Church And Chapel Stained Glass
For 3 decades Colorado Springs Stained Glass has partnered with religious organizations here in Colorado and across the USA for that matter, to restore church stained glass. We work with religious communities of every faith and denomination and have proven to be an invaluable partner when it comes to revitalizing church stained glass and preserving a piece of history. Our team expert stained glass restoration and repair teams will work with your religious institution to bring back the beauty and luster of the stained glass on your Grand Junction temple, synagogue, cathedral, or church. We can also offer invaluable insight into fundraising for your church's stained glass project.
Grand Junction Commercial Stained Glass
Stained glass is the perfect way to add class and style to the appearance of any commercial property. The windows are both beautiful and versatile, working well as signs, ceilings, lightings, and work to create a high end, sophisticated look for your establishment. At Colorado Springs Stained Glass, we will work closely with your Grand Junction businesses to find the perfect stained glass for you: hotels, restaurants, cafes, pubs, museums notwithstanding.
Receive a Quote from Colorado Springs Stained Glass
Experience the beauty of stained glass today. Contact Colorado Springs Stained Glass to receive an estimate on a custom stained glass for your Grand Junction home or business or to discuss a church stained glass restoration project for your congregation.