Stained glass is undoubtedly one of the most beautiful art forms. Just take a look in churches across the South and you will discover how beautiful and captivating stained glass really is. The way that light floods in through the glass and brings colors, images, and illustrations to life is truly captivating. The experience itself is almost spiritual, so it's no wonder that even modern churches contain to include stained glass in their architectural designs.
Furthermore, stained glass creates a beautiful backdrop for gatherings and ceremonies. Churches with stained glass windows are gorgeous locations for hosting baptisms, weddings, bar mitzvahs, and other special events. In photographs, stained glass helps to add color and create an upscale, artistic look.
If you're a stained glass lover, there some destinations in the US that you don't want to miss out on. In this article, we'll take a look at some of the most beautiful stained glass churches in the South.
Stunning, Must-See Stained Glass Churches in the South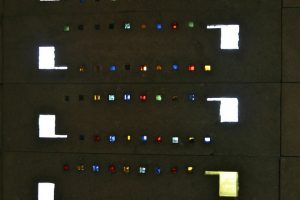 Annie Pfeiffer Chapel
The Annie Pfeiffer Chapel is a masterpiece created by famous architect Frank Lloyd Wright and is located in Lakeland Florida on the Florida Southern College campus. The chapel is famous for its prairie style architecture and "textile blocks", which are a unique design element that consists of concrete pieces that have been embedded with squares of stained glass, and add beauty and color to the church.
Ida Cason Callaway Memorial Chapel
The Ida Cason Callaway Memorial Chapel is a chapel located at Callaway Resort and Gardens in Pine Mountain, Georgia. The church features stunning nature themed stained glass windows and is a popular location for weddings and ceremonies.
Chapel of Thanksgiving
No U.S. stained glass bucket list would be complete without the Chapel of Thanksgiving stained glass. Known for its unique spiral design, this church stained glass masterpiece titled the "Glory Window" is one of the largest horizontally mounted stained glass windows in the world.
Obtain Your Own Church Stained Glass Window
Bring the beauty of church stained glass to your Colorado springs chapel, cathedral, or temple. Call Colorado Springs Stained Glass today to speak to a designer and get started!