Stained glass is perhaps most famously known for its use in religious sites around the world. From beautiful rose windows to entire dome ceilings, due to its incredible detail and moving subject matters, religious stained glass is truly a sight to behold. But did you know that some of the most beautiful church stained glass windows are right here in Colorado Springs? That's why we've decided to launch this series highlighting all of the incredible stained glass windows in Colorado Springs churches, temples, synagogues, mosques, and other sites of worship. Our first subject for our Great Churches of the World series is the U.S. Air Force Academy Cadet Chapel.

U.S. Air Force Academy Cadet Chapel
The chapel for the US Air Force Academy in Colorado Springs was constructed in the year 1962. It was designed by the famous architect Walter Netsch. Netsch was known for his ability to create incredibly complex building designs. Some people criticized his work because the buildings were difficult to navigate. But the Cadet Chapel soon broke that trend and became known as one of the most highly regarded examples of modern architecture as well as Netsch's ultimate masterpiece.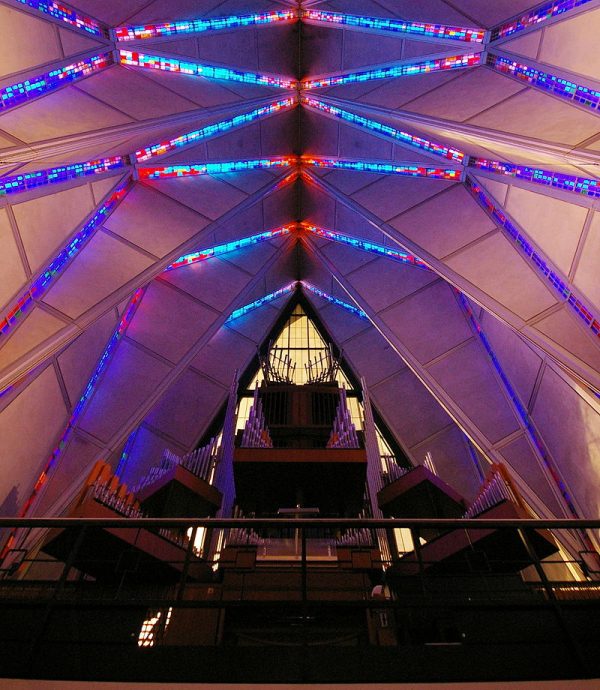 The chapel is a two story building that's designed to house three separate areas of worship. On the upper level, you can find the Protestant nave and if you venture downstairs you have access to the Jewish, Catholic, and Buddhist chapels. The stained glass in these areas is incredibly beautiful. In the Jewish Chapel, a wall of bright purple stained glass serves as the backdrop for a large menorah. Next door, in the Catholic Chapel, you can find an incredible stained glass mural depicting the Annunciation. In addition to this, there are pieces of mosaic stained glass inbetween the gaps of the chapel's seventeen spires, the architectural highlight of the building.
Though the structural architecture of the building is indeed fascinating, there's no denying that the stained glass windows make up a large part of its magnificence. The incredible beauty and talent that can be witnessed in the U.S. Air Force Academy Cadet Chapel is what makes it a gem of Colorado Springs and one of the Great Churches of the World.