It's getting pretty chilly outside, right Colorado Springs?! In fact, we could even be expecting snowfall within the next few days!! Which means it's time to break out the wreaths and holly because the holidays are almost here. That's right, the most cheerful time of the year is just around the corner. That means that your days are soon to be filled with lots of family gatherings, holiday cooking, and, of course, shopping for something special to give to the people you love.

Holiday Gifts from Colorado Springs Stained Glass
Although giving a gift is such a wonderful feeling, you have to admit that the shopping experience beforehand can get pretty crazy (especially at the Citadel and Chapel Hills Mall)! Of course there is a fairly simple way to avoid hectic last minute shopping: plan in advance. Start crossing off the names on your Christmas shopping list by visiting Scottish for a locally produced Colorado stained glass installation. Our stained glass created by local artists and glaziers is the perfect way to tell someone exactly how much you think about them all year round.
A Gift That's Truly from the Heart
We all know that finding the right gift for that important person in your life is more easily said than done. Of course, if you find yourself in a last minute panic on Christmas Eve, you can always go online and get something boring and generic shipped overnight. But that hardly sends the right message to your loved one, and deep at heart, you know they deserve much more than that.
With November still ahead of us, there's still plenty of time to thoughtfully plan out your holiday gifts. Give your family and friends a gift that's truly from the heart with a piece of custom art from Colorado Springs Stained Glass. Your stained glass can be completely personalized with any design, texture, color, or graphic to make it a totally customized gift.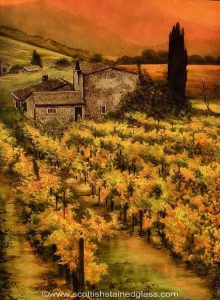 Handmade, Locally Produced Art
If someone special in your life is an artist or an art lover, they would appreciate a gift that speaks to their special interests. That's why our locally produced stained glass is the perfect holiday gift. It's made and designed by artists that live in the Colorado Springs community.
When you choose Scottish for your stained glass, you're not only getting a beautiful piece of original art, but you're also supporting passionate and hard-working local artisans. Stained glass can tell the artist in your life that you love them for being the unique, creative person that they are.
Custom Stained Glass in Colorado Springs
Spread Christmas cheer and give your loved ones something special this holiday season.Call Colorado Springs Stained Glass to get started on designing your custom stained glass art.